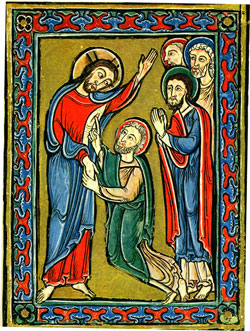 Complete lections
here
After all the intensity of Holy Week, it's all too easy to slump into exhaustion as soon as the final alleluias of Sunday fade into silence, but since Easter lasts
50 days
that's really not an option, even for clapped out clergy! And of course for many in our churches, the transition from the pain and emptiness of Good Friday to the jubillation of Easter Sunday may just have been too abrupt. So though this coming Sunday is traditionally "Low Sunday", we need to give them an opportunity to share the joy...which, for me, is where Thomas would come in. Late to the celebrations, out of step with the prevailing mood, and, bless the man, needing
proof
. You have to love him (while being glad that we're not all branded for centuries on account of one aspect of our characters; you can so imagine it...
"She's a bit of a panicking Kathryn, you know..."
)
The whole story is such good news for we who walk by faith rather than knowledge - there's much you could explore there I'm sure.
Or maybe you'll offer your congregation the challenge presented by the Acts community
4:34 There was not a needy person among them, for as many as owned lands or houses sold them and brought the proceeds of what was sold.
Dare we believe that there might truly be enough to go round, if we really tried to give in the same way that we have received? With many anxious souls in our congregations, that could be really transformative.
You know, I'm almost regretting that I have a Sunday off - do share the direction you're heading...and Happy Easter!